Life's Triumph
Support this small-press venture... but what does that mean? Read this for more.
For press materials, visit here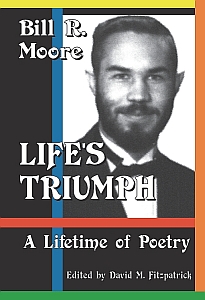 A writer usually has that one project
that absolutely defines him.

It's his MASTERWORK.

It's that short story, that novel, that anthology—
whatever it is that is his most important writing.
It's the project he's worked on for years—
maybe all his life. It's what matters most to him.

It's his MAGNUM OPUS.

It's built with all his skills and experience, all his
hopes and dreams, all of the many deep
facets that make him who he is.

It's a TOUR DE FORCE.

It's the project that, when he's gone, he hopes will represent him
forever—that thing that will outlive him, and show others what he
felt, what he believed, what he could do… that thing that
will tell others that he was here, and who he was.

It's his CROWNING ACHIEVEMENT.

Here is a collection of an entire lifetime of poetry—three books in one
volume, representing so much that was so important to the poet. He's gone now, but this collection lives—the poet immortalized.

It's Bill R. Moore's LIFE'S TRIUMPH.